A conceptual and textural re-imagining for an evolving sleep brand.

After a number of successful Las Vegas Furniture Market showroom updates, Tempur-Pedic came to our team with the request of an in-depth re-imagining. A number of large scale changes over the previous year, a new flagship store concept and a company merger among them, suggested functional, thematic, and aesthetic changes should be considered in the scope of the Vegas Showroom evaluation.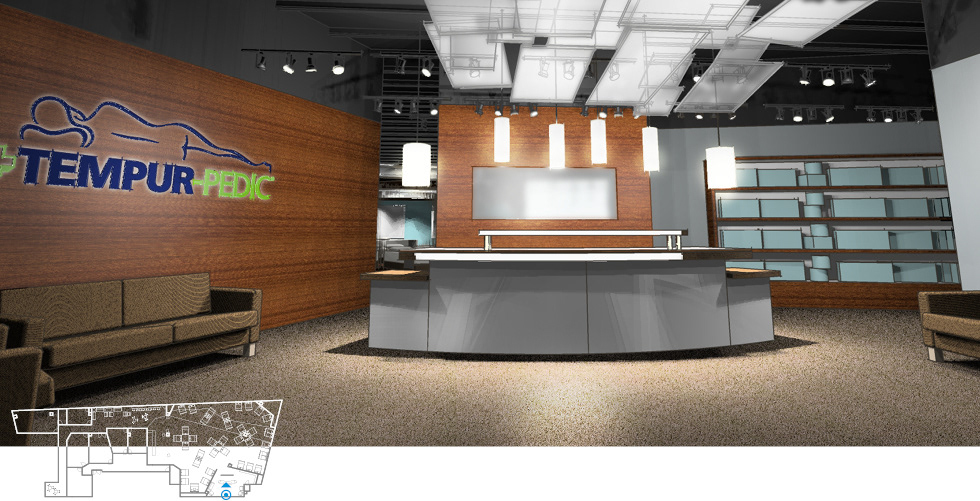 A range of proposed work was shown in the initial rounds of spatial programming and zoning, from a complete shift of the main entrance and functional areas of the space, to more minor tweaks to room sizes and wall finishes. The floorplan decided upon stayed closer to the latter, and relied on minimal demo work to allow for the finishing of an adjacent expansion.

Mood boards were then created to set the tone for the space. They pulled inspiration from not just the flagship store, but bolder examples of modern architecture and interiors as well. Hard white panels, warmer, medium-toned wood pieces, and light sheer fabrics were the main elements.
A series of focal points were pulled out of the space to indicate a distinct purpose to each area. The stage dominates the main show floor, and acts as a highlighting element to the latest product. The bar begins the change in tone both of the space itself as well as the type of conversation taking place. It acts as a transition between the show floor and the semi-private conversation areas in the belly of the space. The conversation areas are broken into bar height for less formal, and, as one moves further into the space, lounge height for a more formal, intimate talk.
An adjacent area was planned to house a number of private conference rooms and a retailer-specific show floor. These requirements necessitated a separate entrance that mimicked the main space.
While the concept overall was well-received, the specific implementation unfortunately did not see the light of day.
Project Team
Tom Jordan, Matt Lancaster, Melissa Lassiter, Florian Vollmer